If you've been following us on social media, you know that for the last few weeks, we haven't been able to stop talking about San Diego Comic Con. While we didn't have a booth at the convention this year, our COO, Jazzlyn Stone, spent the weekend talking on panels, getting to attend a seriously amazing geeky fashion show, handing out prizes, and getting to meet you – the members of our ever-faithful Bomb Squad!
After giving Jazzlyn some time to recoup after her busy and exciting weekend in San Diego, we just had to sit down and pick her brain a bit about the experience. She spoke on three different panels alongside our friends from Espionage Cosmetics, with a rotation of other awesome professional geeks to talk about their experiences and to share their wisdom about building their careers.
Each panel focused on taking your passion for the nerdier things in life and establishing a career around them, with focuses on slightly different areas of the process. "Building your own Themyscira" talked finding your niche and building the professional relationships needed to turn it into your life's work. "Level Up: Be a Nerd Boss" tackled the technical side of getting your brand off the ground, like marketing, licensing, sales. Last but certainly not least, the "How to be a Nerd for a Living panel shared how they got their start and tackled questions about what it took to carve their paths in the industry.
Was this your first time being on a panel?
No; I did a panel with Nerd For a Living previously at C2E2! That's how I met their producer, Wendy Buske. She's amazing, so I was really excited to work with her again. When she was like, "Hey, do you want to come to San Diego to be on this panel?" I was like, "Forever YES. Just – blanket yes."
What advice would you impart on somebody preparing to speak on a panel for the first time?
Chug water in the hour beforehand so your mouth doesn't get too sticky while trying to talk. Eat food – like real food. Don't over-practice; you'll likely have an outline beforehand and it's good to read that a couple times, but don't practice your answers because you'll sound too forced. Be authentic, but read the room. If people obviously want to hear more about a story you're telling, you can divulge a little bit more. I was on three panels that were similar, and different parts of a story I told at all of them got more exciting at different parts depending on the crowd.
What was your favorite panel moment?
When Susan Eisenberg leaned back in her chair and winked at me, very secretly and quietly. It was amazing and I almost screamed into the mic. But I didn't, and that's probably one of the chillest moments I'll ever have.
Do you have any favorite sentiments or pieces of advice that really stood out to you?
So much! I was taking a lot of notes during each panel because so much wisdom was being dropped. A few favorites:
"Think about it like a stovetop, you can't burn all four burners at the same time or you'll burn too much gas. Switch your energy between the four to stay focused and move forward." – Robyn Warren of GeekGirlStrong, on sticking to four points of focus to avoid burnout.
"Stand out by finishing something. Create something, make something, and just 'do'. Don't be a afraid if the first round is bad." – writer Sam Maggs, on how the biggest hurdle in starting something new is actually starting!
"I could have saved a lot of time by asking the customers wanted they wanted first, and not just assuming." – Jaimie Cordero, CEO of Espionage Cosmetics, on listening to your customers and fans!
We also talked about our "bugs" and seeing them not as flaws but as features instead. My OCD and ADHD were hell when undiagnosed, but now that I've gotten ahold of them I've learned to redirect that energy and use them as tools instead of letting them hinder my lifestyle. I'm learning to rethink what I originally saw as flaws in my design.
You also got an invite to the Her Universe fashion show – what was that like?
The fashion show was fucking amazing. It was like a Beyonce concert – everyone dressed to the nines to be there. Also, some of the designers were their own models and I was in the front row (very luckily – thank you, Espionage Cosmetics!) and so I got to see them before they walked out on stage.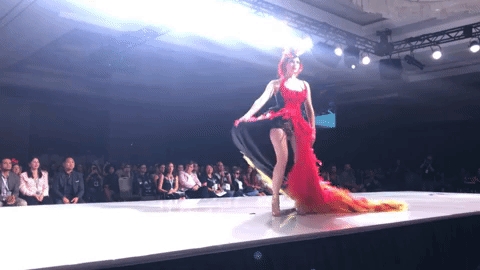 I would see them right before going out on the catwalk and they'd be backstage pumping themselves up and then they'd step out like "HELL YEAH!" and it was really sweet and also really inspiring to see what these people were doing. The one I voted for (and won!) was inspired by Ripley from Alien[s] and she didn't even have to pump herself up on stage, she just got onstage and her music came on and she just did it. It was so good, I was losing my mind – we were all losing our shit. It was a really, really good show.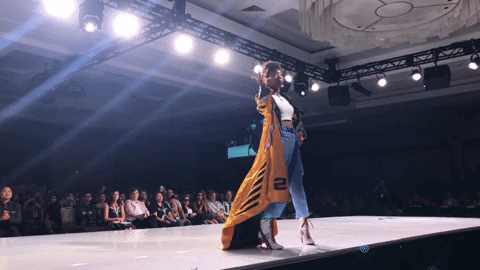 Speaking of showcasing fashion, you wore a skirt prototype to the convention. How did that go?
People were really excited about it and asked me where I got it! I think they were really excited that I was actively trying out a prototype at a convention and that they had the chance to see something that no one else has yet. I got the most compliments on that outfit. I, personally, am even more excited than I already was about this skirt because of how much shit I shoved into those pockets and it stayed up!
Last but not least – favorite cosplay?
An amazing Shade the Changing Girl, and an incredible Jon Snow:
If you know either of these talented humans, please let us know so we can give them proper credit!